Sometimes God leaves me floored, as was the case this past Saturday.  A friend of mine, Amber, had invited me to volunteer at an event to benefit the homeless of Los Angeles.  Little did I know that my willingness to do a bit of service on a Saturday morning would take me to one of the most impoverished places in the country, Skid Row.  In case you're not familiar, Skid Row, is a section of downtown L.A. known for having the largest homeless population in the United States.  It is a notoriously rough neighborhood.
     I arrived at the Union Rescue Mission at 7:30am, a bit early, so I decided to drive around the neighborhood.  The streets were a flurry of activity, homeless men and women packed up tents and makeshift shelters strewn from cardboard, plastic tarps, and shopping carts.  It seemed as though this was their morning ritual.  A group of men shared stories around cups of steaming coffee.  Not knowing where to park, I found a public lot and paid the attendant.  I was no longer protected by the "security" provided by the cab of my truck behind locked doors.  I was on the street.  I was alone, I was anxious, and admittedly, I was afraid.  Outsiders tend to stick out in a place like this.  I started praying and walked back to the Rescue Mission.  After connecting with Amber, I was asked if I would escort volunteers to and from the event, as the lot where they would be parking was several blocks away.  Having come with the intention of doing whatever was asked of me, I said, "Sure."  Instantly, I regretted the decision as I knew this would most likely take me away from the event itself.  However, as I walked the streets of Skid Row to and from that lot, I began to realize that maybe God didn't want me at the event, perhaps, God wanted me on the street.  The face of poverty became more real to me than it ever had before.  And even though the walk was only about three blocks they were the longest three blocks I've ever had to walk.  I saw hunger.  I saw hopelessness.  I saw mental illness.  I saw drug abuse.  I saw addiction.  I saw crime.  In fact, at one point, what felt like the entire Los Angeles Police Department (helicopter and all) descended upon the block where I was walking, and there I was--right smack dab in the middle of it...still praying, as sirens blared around me.
     The "Carnival of Love" began to materialize as more and more volunteers began to arrive, many bringing donations.  A jumping balloon, climbing wall, and DJ booth were set-up.  Various stations for food, clothes, shoes, and toiletries were neatly organized, as people from the community began to line-up around the block to enter the carnival.  There was a feet washing station, free haircuts, pet grooming, and an ice cream truck.  By the afternoon the carnival was in full swing and had become a massive dance party where volunteers and members of the community danced together as ONE.  I saw SMILES.  I saw HOPE.  I saw JOY.  I saw LAUGHTER.  I saw LOVE.  Free HUGS were abundant.  I witnessed people pouring themselves out for the sake of another.  The fear from earlier that morning--gone.  And just when I thought the day couldn't get any better, a moment of blessing:  the unexpected sight of a dear friend, wherein my own heart lept for joy.
     As I reflect on what happened on Saturday, most of it seems quite surreal.  However, for a brief moment I caught a glimpse of humanity as God intended it, with no division due to economic class, race, religion, or creed.  It was a staunch reminder that we are ALL God's children and in order to be truly happy, we must SERVE one another.  From the heart of Skid Row, I saw the HEART of Skid Row.
Thank you Amber, Kristen, Aijia, and Justin for making the "Carnival of Love" one of the most amazing days of my life.
#WeLoveYouSkidRow #OneLove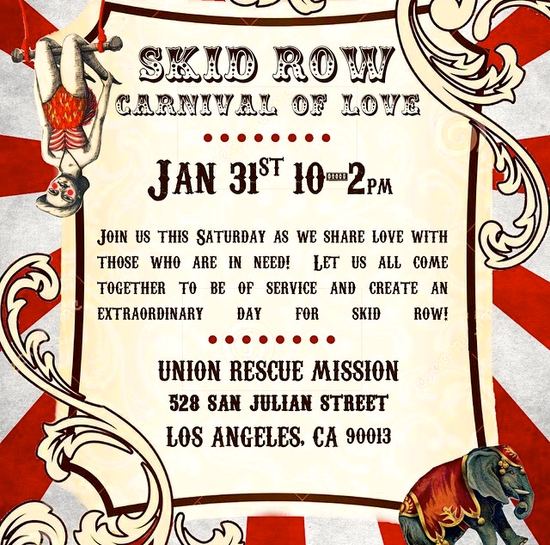 This is Aijia Grammer we met in 2003 when I worked for Club Med Resorts in Crested Butte, Colorado.  Our worlds collided again at the Carnival of Love!  Here's a snippet from her bio:
"Aijia Grammer is an actor and musician born and raised in the entertainment industry in Los Angeles. She has appeared in numerous commercials, TV and film since the age of 11. In 2012 she married musician, Andy Grammer as well as put out her debut solo EP titled "Learning To Let Go;" which can be found on iTunes. She currently produces and stars in the Soul Pancake original webshow 'JoyBomb with Aijia.' For more information visit www.aijiamusic.com or find her on Twitter @aijiamusic."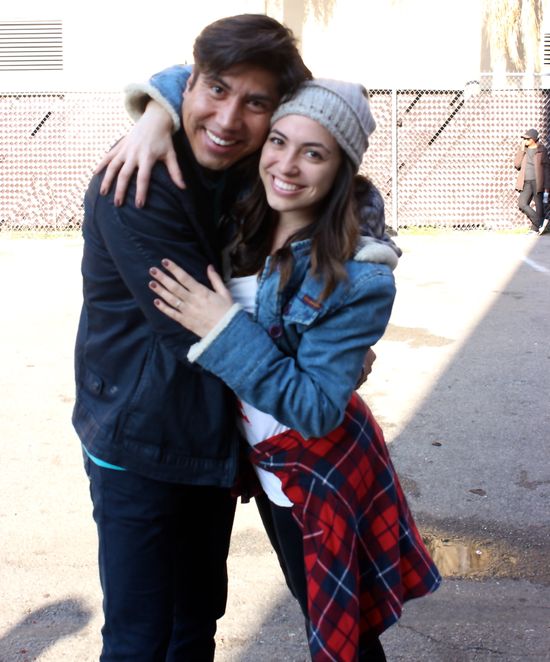 This is actor/filmmaker Justin Baldoni.  Every year he celebrates his birthday by giving back to the community.  This year, I was blessed to be a part of it.  He currently stars as "Rafael Solano" in the award-winning series, Jane the Virgin, on the CW.  Follow him on Twitter @justinbaldoni.